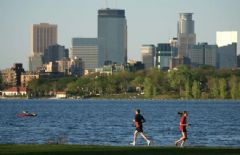 SparkMinneapolis / St.Paul- the Official Team
A team for people who live, work or visit Minneapolis/St. Paul and its surrounding suburbs. We're here to motivate, challenge and support one another.
Total SparkPoints:

27,173,457

Total Fitness Minutes:

28,581,152

Aug. 2017 SparkPoints:

100,634

Aug. 2017 Minutes:

100,866

Total Members:

26,407
Ranked #1 in the City to City Challenge SparkAmerica Leaderboard Challenge
Visit this full SparkTeam on SparkPeople.com ›
You can click to SparkPeople.com to join this team, and if you are not a member to join SparkAmerica and SparkPeople for free.